Tyack Ecommerce Solutions
Regular price
$4,995.00 AUD
Regular price
Sale price
$4,995.00 AUD
Unit price
per
Sale
Sold out
View full details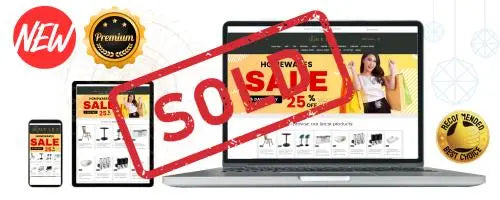 Note: We are currently working in the backend of Shopify to add collections/categories and consolidate the mega menu for you.
YOUR NEW STORE: EMPIRE EMPORIUM! Keep the name or change it to something else!
As this online store is built across multiple categories with thousands of products ready to sell, this site is considered "Premium" and is sold outside of our regular pricing due to the amount of time and resources that has gone into the building of the store for maximum potential.

🌟 Ready to Start Your Dream Business? 🌟
💼 ONLINE SHOPIFY STORE FOR SALE! 💼
Are you ready to become your own boss and embark on a thrilling entrepreneurial journey? We've got just the opportunity for you! We're selling a fully-equipped Shopify store that's bursting with potential and ready for you to make it your own.
🌐 THE OPPORTUNITY:
🛍 A New Online Store: This Shopify store is pre-loaded with thousands of carefully curated products across various categories, providing you with a diverse range of options to target different markets.
📈 Built-In Growth Potential: The foundation is set, but the sky's the limit! Customise, expand, and promote the store to make it uniquely yours and watch it grow.
💻 User-Friendly and Mobile-Responsive: The store is designed to be easy to navigate and is fully optimized for mobile devices, ensuring a seamless shopping experience for your customers.
🚀 Ready to Launch: All the groundwork has been done – from product listings to payment gateways and a sleek, professional design.
🧠 Training & Support: If you're new to e-commerce, we'll provide you with the training and resources you need to kickstart your online business.
🔒 Secure & Reliable: Rest easy with the peace of mind that comes with Shopify's robust security features and 24/7 live chat customer support.
📦 Inventory Management: Easily manage your product inventory with Shopify's intuitive tools, ensuring smooth operations including API app to deliver real time stock updates (for some dropship suppliers).
💰 Potential for Passive Income: Set up dropshipping, affiliate marketing, or any other revenue streams to diversify your income. We can even set up your google shopping ads campaigns so you can be sure to gain eyes on your products.
🎯 Niche Flexibility: Interested in fashion, electronics, beauty, or any other niche? You have the freedom to shape this store into your dream business.
📢 MARKETING READY:
📱 Social Media Integration: Seamlessly connect your store with popular social media platforms to reach a broader audience. We can help with this!
📧 Email Marketing Integration: Start building your email list from day one and nurture your customers for long-term success.
🌐 SEO-Friendly: The store is optimized for search engines, making it easier for potential customers to find your products.
🌟 WHY CHOOSE THIS OPPORTUNITY:
🚫 No Need to Start from Scratch: Skip the time-consuming and costly process of setting up a new e-commerce store and dive straight into the exciting world of online retail by experts who have over 10 years experience in the industry.
👨‍👩‍👧‍👦 Work-Life Balance: Enjoy the freedom of running your own business and spending more quality time with your loved ones.
💡 Creative Freedom: Put your unique spin on the store, and let your entrepreneurial spirit flourish.
🌐 Unlimited Earning Potential: The online market is vast, and this store is your gateway to unlimited possibilities.
🤝 Support and Guidance: We're here to support you during the transition and provide valuable resources for your success.
📞 Contact us now and take the first step toward becoming a successful online entrepreneur. Your dream business is just a click away!
🔥 Don't miss out on this incredible opportunity to own an online Shopify store with thousands of products and endless potential. Act fast, as opportunities like this don't last long! 🔥
📧 Email: contact@tyackecommsolutions.com.au
🛒 Seize your chance to be your own boss and create the life you've always dreamed of. Buy this Shopify store today and let your entrepreneurial journey begin! 💼💰🌟. Interested just send us a message and we can answer any additional questions.
All our websites come with a range of services which you can check out more in detail below. We are here to answer any questions you may have. Just use our contact form here or email us at contact@tyackecommsolutions.com.au.
Click here for Prices and Packages.
Click here to check out the store. Use code 'bargain' to enter the site.
Why start an online retail store?  
Revenue in the Ecommerce industry in Australia is predicted to hit AU35 Billion
In 2024 this is set to increase to over 45 Billion
In Australia, customers spend an average of $1732 a year online on ecommerce purchases.
84% of Australians are searching for products online each month.
70% of us will make at least one purchase per month.
The increase YoY which is trending shows great strength in deciding to start an ecommerce business.
A bit about your store.
1000's of Products uploaded for your store are some of the highest rating/sold in Australia along with google trends.
Using a dropshipping method with Australian based supplier, the supplier ships directly to your customer and you can add more products to your store at anytime! Shipping usually takes between 3-7 days.
We also have a payment plan where you can pay half up front to secure the store, and then 50% on handover day.
Disclaimer:
 Income, revenue and profit earnt from purchasing and trading the online store will be purely dependant on the output by the buyer. That is, but not limited to the time spent on running the store, input of initial and ongoing funds, passion, drive for success, personal factors, economic/external factors, experience in ecommerce or alike industries as well as demographic and psychographic factors. Tyack Ecommerce Solutions finds a potential gap in the market and creates an idea for an online store. Alongside this idea is a full functioning website for desktop and mobile as well as a transactional checkout, ecommerce trading techniques, unique product descriptions and banners etc to help you kick off your ecommerce store with ease. All services and information provided is purely a guide to help you make a decision in starting your online business and personal research should be conducted to ensure financial stability after purchase in the case of any personal loss which is contributed from running the business. Tyack Ecommerce Solutions is not liable for any such loss if this occurs. We do however believe, like any new business, the success you get back from your store correlates with the amount time and effort you put in. We don't want to scare you here but we know this is a big commitment for anyone starting out and we want to ensure you have done your research and succeed.
Choosing a selection results in a full page refresh.
Opens in a new window.